Chagres Park Caving tour, Panama.
Includes: Guides, safety equipment for caves, snacks, ANAM entrance fee, and transfer from Panama City.
A great experience, a great challenge for all those who claim to be truly intrepid. All this surrounded by the dense and rich tropical rainforest that surrounds the Chagres National Park in Panama, one of the most interesting wildlife refuges in our country.
It all starts early in the morning when we pick up our clients at the meeting place, then we head towards Parque Chagres, a trip of about an hour. We will continue our journey until we get as close as possible to a group of interesting limestone formations, of which the cave walls are formed.
The caves of the Chagres park, are of great antiquity (close to the formation of the isthmus) and natural beauty, their conformation is not very humid and they contain small insects, reptiles and flying mammals; They are arranged a short distance from each other and the formation of stalactites and stalagmites of considerable size can be seen very clearly, which have the peculiar characteristic of producing sounds similar to bells with the slightest touch, all this in a relatively short extension. . In these caves, they could have been ancient shelters against the weather, beasts, enemies or even as a hiding place for treasures in colonial times. We will be in the caves for about an hour and a half to 2 hours.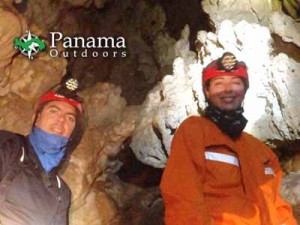 Once the visit to the caves is complete, we will rest for the long haul and get ready for a comfortable and dry return to Panama City.
==================================
We recommend: We recommend wearing comfortable clothing that covers most of your body from the sun. It is recommended to wear hiking shoes or closed shoes with good traction that can get wet. Bring a complete change of clothes, repellent, hat and sunscreen. If you are outside of Panama and wish to make a reservation, we appreciate that you do so 30 days or more in advance.
If you are a resident or already in Panama, we appreciate booking a week or more in advance.
If you request the services with less time than stipulated, we will try to assist you, but we cannot guarantee availability.
Some services are subject to having good weather conditions for the practice of the activity or may represent for passengers the real possibility of getting wet in the rain or dirty, depending on the weather station at the time. We recommend bringing a light raincoat in the rainy season.